The AFC Asian Cup Qatar 2011 concluded with the Japanese side once again being crowned Asian Champions. What can we conclude about the performances of East Asian nations in this year's edition of the Asian Cup? And what new topics of discussion have emerged as a result of their play? With the help of journalists who have covered their respective countries teams throughout the tournament, we will take a closer look at Japan's successful victory, Korea Republic's disappointing third-place finish and also China PR's early exit in the group stages.
Japan: The Champions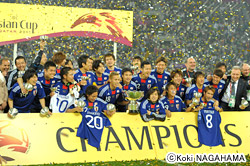 We must first consider that in order for Japan to win the AFC Asian Cup Qatar 2011 and claim its place atop Asian football, they had to maintain a consistent level of play throughout the tournament. Indeed, Japan displayed its superior team strength on its way to the championship.

In comparison with its three previous titles in the Asian Cup, the 2011 Japanese squad appeared to be head-and-shoulders above the competition. Back in 1992, Japan was led to its first Asian championship by Kazuyoshi Miura, Masashi Nakayama and Tsuyoshi Kitazawa. At the 2000 Asian Cup eight years later, Japan, who was coached by Philippe Troussier and led on the pitch by Shinji Ono and Naohiro Takahara, again reached the pinnacle of Asian football. Many consider the players on the 2000 team to be among Japan's "best generation", which overcame incredible odds to shock the Asian football world. Again in 2004, despite endless booing from the crowd, coach Zico willed his tenacious and seasoned squad to another unlikely Japanese victory in the Asian Cup.

There was nothing especially dramatic in Japan's domination of the AFC Asian Cup Qatar 2011. While Korea Republic had extra motivation to win this year's championship for Park Ji-Sung, the Manchester United midfielder who would retire from international play at the end of the tournament, and the Australian team likewise sought a final vindication for its aging star Ike Kewell, there was no such 'off the field' motivation for the Japanese squad.

Due to a number of injuries, Japan entered the AFC Asian Cup Qatar 2011 with a bit of uncertainty and thus did not have adequate preparations for the tournament. However, Japan responded positively to these misfortunes and seamlessly overcame theses difficulties. Four years ago, the Japanese squad, lead by Osim, was unable to bounce back when things did not go their way. Many consider this team's level-headedness in the face of adversity to be Japan's crowning achievement on their way to the championship.

Japan's poise was on display in both the match against Syria when the goal keeper was sent off and the Syrians were given a penalty shot and also in the quarterfinals against Qatar when Japan had only 10 players and faced a one goal deficit. In both situations, Japan did not panic. Although they faced the brink of elimination in these matches, there was a prevailing sense on the Japanese sideline that if they gave their best effort and did what they had to do, they would come out on top. The confidence to do "what they had to do" was well understood by all members of Japan's football team as Japan's fortitude, which was first demonstrated this summer in South Africa at the World Cup, was again tested in Qatar.

Specifically, Japan's recent on-field success is not only due to its improvement of technique, physical superiority and training, but is also due in part to the team's spirit, sense of trust and honor which formed this summer in South Africa. Furthermore, Zaccheroni who has experience on Europe's biggest stages, including the UEFA Champions League and Italy's Series A, used his familiarity with 'the big game' to calm the nerves of his Japanese squad on their way to the Asian Cup championship. Furthermore, the Japanese players had grown well-accustomed to Zaccheroni's plans as coach. When they won their first Asian Cup Championship title in 1992, the culture of Japanese football was not as professional as it is today, specifically with regards to external communications with the press and media.

Zaccheroni took over the squad from the former coach Takeshi Okada while the young players such as Shinji Kagawa, Maya Yoshida, Tadanari Lee, Ryoichi Maeda and Masahiko Inoha had gradually settled in with the team. Furthermore, Kagawa's versatility with the ball, his excellent vision as well as quick anticipation sets him apart from previous great players in Japan's football history. While there is not enough space for him to perform on Japan's team than in Dortmund (Bundesliga). Shinji Kagawa had showed his strength through several matches but unfortunately had to leave the team due to injury. It was an unfortunate occurrence for both himself and the team.

Moreover, what is also worth mentioning is the attacking prowess of the backs in this tournament. Aside from Yuto Nagatomo, who did very well in South Africa, Atsuto Uchida strengthened his defensive ability by training in German Bundesliga and found more opportunities to participate in the attack for the Japanese in the Asian Cup.

While other players began to slow down in the second half of the matches against Korea and Australia due to fatigue, Keisuke Honda's endurance played a significant role. When his teammates needed help, Honda was often there to provide a lift. Nagatomo and Uchida also displayed courage in the face of exhaustion and kept up with Honda Keisuke's lead.

Even before exhaustion set in for both his teammates and his opponents', Honda's speed disadvantage became obvious to spectators and competitors alike. Due to the discrepancy between Shinji Kagawa excellent speed and vision and Honda's poor form, Japan's attack was not as flexible as it needed to be. Yet, Shinji Okazaki's speed and Makoto Hasebe's excellent running ability made up for the shortages at attack. However, Hasebe's physical ability waned in the second half of the match against Korea, and was unable to participate in the attack until the very end. As a traditionally good mid-way defensive player, if Yasuhito Endo had greater energy levels during play, he would have played a bigger role on the go-between. But in the Asian Cup, he had tried his best to produce a result for his squad.

Another issue confounding the Japanese side was the defense line of midfield without Marcus Tulio Tanaka and Yuji Nakazawa. Although Maya Yoshida made contributions, Japan faced severe height disadvantages against the likes of Australia and Korea and the three defenders squad faced enormous pressure throughout the entirety of each game. Against Australia, manager Zaccheroni decided to move Yasuyuki Konno to the left defense side thus changing from 4 defenders to 3. Training a mid-defender with good physical strength became an necessity for the Japanese squad.

Youthful and composed, this Japan team is ultimately worthy of the title 'Asian Champion'. But the ultimate aim of this team is to surpass the expectations of being Asian champion and excel on the international stage against better competition.

The goal of Japanese football and Asian football in general, is to enter the upper-echelons of world football. Although Japan came up short of their goal of advancing to the quarterfinals of the World Cup, they proved that they will be a force to be reckoned with in years to come. Although Japan cannot expect to compete with the likes of Spain, Germany, Holland right away, but they have already closed the gap on teams like Uruguay. This year still holds much promise as Japan has been invited to participate in the 2011 Copa America. As was the case in 1999, the Copa America will be a touchstone event for Japan to see whether they are capable of playing football at a world-class level.
Text:Shuichi TAMURA
Korea Rep.: the third place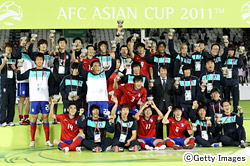 Before the tournament, Korea Rep. came up with the slogan "The Return of The King" in hopes of winning their Asian Cup in 51 years. However, it was not to be, as Japan edged Korea Rep. on penalties in the semifinals. They eventually took third place. "We didn't win the match and that is my responsibility. It was not players' responsibility that we lost against Japan, it was totally my responsibility." the coach Cho Kwang-rae lamented the in the interview.

Despite the disheartening defeat, there was very little finger-pointing from the players, coaches or media in Korea Rep.. In fact, more than 1,000 fans greeted the team at Incheon Airport in Seoul, appreciative of the team's efforts throughout the tournament.

Coach Cho Kwang-rae was complimented for a job well done, much more than he was blamed for the team's shortcomings. In the past, a third-place finish in the Asian Cup meant would signify changes in management, as in the resignation of Huh Jung-Moo in 2000 and Pim Verbeek in 2007. However, Koreans has given high praise to Cho Kwang-rae, who assumed the position of head coach after the 2010 South Africa World Cup. While some Korean fans believe that Cho lacks the experience to lead the national team, most Korean supporters are encouraged by the team's recent play and wish for Cho to lead the national team until the next World Cup.

Although the Koreans missed their chance to become Asian champions in 2011, this year's Asian Cup set the stage for Korea Rep.'s future success on the world stage.

For example, Korea Rep. Team established an identity on the pitch that became readily apparent throughout the tournament. Cho Kwang-rae called for the team to use more short passes, position exchanges and greater participation from the backfield in attack. As a result, Korea Rep. demonstrated to the rest of Asian football that it had devised a strategy that could be extremely effective in international play.

Since this summer, Korea Rep.'s tactical formations have become more reliable. After its defeat to Argentina in the World Cup elimination stage, Cho decided to change the squad's formation from 4-4-2 to 3-4-2-1. When the team assembled for training in December, Cho even introduced a 4-2-3-1 scheme for use in the Asian Cup. The 4-2-3-1 formation is designed so that if there is a chance to attack, the entire line would press. However, when midfielder Cha Du-ri chose to participate in attack against Japan, the back line committed four penalties as a result of being stretched too wide. Unfortunately, Korea Rep. was unable to counterattack effectively enough to defeat Japan. Even so, the Koreans still believe that they can play this attacking style of football effectively in the future.

Perhaps the most encouraging aspect of the AFC Asian Cup Qatar 2011 for Korea Rep. was the emergence of a new generation of football stars. At 20 years old, Koo Ja-Cheol became Korea Rep.'s demonstrated his potent scoring ability as he scored a total of 5 goals over the duration of the Asian Cup. Meanwhile, other new faces such as Son Heung-Min (18 years old), Hong Jeong-Ho (21 years old) made a difference for the national team. Add in the likes of Ki Sung-Yueng (22 years old) and Lee Chung-Yong (22 years old) and it is clear that the future of the Korea Rep. National team is in the hands of these young football stars. It might be said that the AFC Asian Cup Qatar 2011 represented the changing of the guard from old generation to the new generation of Korean football.

The AFC Asian Cup Qatar 2011 saw the end of the international careers of aging Korean footballers Park Ji-Sung and Lee Young-Pyo, who decided to hand over the leadership reigns to the young crop of emerging stars. Park and Lee, who have represented Korea Rep. on the world stage for over ten years, chose this year's Asian Cup to be their final farewell to Korea Rep.'s football fans. Both stars believed that this was the appropriate time to give Korea's young players the opportunity to step out of their shadows and create their own legacies. Park and Lee have experienced all there is on the international stage, including distinguished club careers in Europe as well as participating in Korea Rep.'s legendary run to the semifinals of the FIFA World Cup 2002. While Park's leadership and overall demeanor on the field will be missed in future competitions, he believes it is in the best interest of the team to let the youngsters take center stage.

There are many parallel between this Korea Rep. Team and the one that competed in the AFC Asian Cup 2000 in Lebanon. In that tournament, Park Ji-Sung and Lee Young-Pyo emerged as the future stars and leaders of the national team. Since then, Korean football has improved reached new heights of international recognitions. It can be said that, like 11 years ago, Korean football is on the cusp of a new era.

Soon after the AFC Asian Cup Qatar 2011, Korea Rep. will hold a friendly match against Turkey. Striker Park Chu-young, who missed the Asian cup because of the injury, will assume Park Ji-Sung's previous role as captain. The introverted striker, who performed quite well for Monaco FC of Ligue 1, is considered the new leader of the team. Although it remains uncertain as to how Chu-young will perform in his new leadership role, both coaches and players have great confidence that he will lead by example and propel Korea to reach new heights as a team.

Cho Kwang-rae is expected to bring more changes to Korea Rep.'s squad in the next few months. Although many young players emerged on the forward line, many of the players at the back are past their primes and are over the age of 30. Furthermore, this group of central defenders has not always played at a consistent level. Cho will look to some younger talent to address these consistency issues in order to compete at the 2014 Brazil World Cup. In summarizing Korea Rep.'s play at the Asia Cup, Cho noted that a lack of quality substitutes who could change the match in the games later stages ultimately affected their chances to win the tournament.

Although Korea Rep. settled for third place in Qatar, there is genuine optimism surrounding the future of this youthful squad. While one era of Korean football has ended, a new era has just begun. Korean football supporters are eager to see how this team develops and whether they can learn from their mistakes and come out on top in future matches.
Text:Shin Mu-Koeng
China: eliminated in the group stage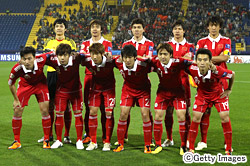 China failed to advance beyond the group stage at the 2011 Asia Cup, sparking criticism from fans of Asia's largest country. With an average age of only 24 years, the Chinese national team was plagued by its youth and inconsistency. Moreover, China did not send its complete squad to Qatar for various reasons. Although manager Gao Hongbo sought to utilize the 2011 Asia Cup as 'training ground' for its young players, the unsatisfactory result has led to fierce disapproval from his many critics. Gao acknowledged that he would need to review the play of the team during the tournament and respond to many questions about his squad. He admitted that he made some mistakes with regards to lineup and formation, especially the play of the second group in the game against Qatar. One of the main questions being asked is whether China would have performed any better if they had sent all of their players to Qatar? Chinese football is still recovering from the various mistakes that were made in its domestic league, and judging by the national team's play at the Asia Cup, there is a long way to go until China returns to a place of respectability.

Many pundits will point to the embarrassment of numerous scandals in recent years within the China Football Association (CFA) and the China Super League (CSL) as the fundamental reason for the decline of the Chinese national team. Instances of match-fixing and gambling within the top-levels of Chinese football have undermined the credibility of the CSL and have stunted the growth and development of its players. China's deficiencies, especially on defense, were readily apparent during the Asia Cup. In fact, China gave up four goals in three games and could have relented more goals as a result of their countless defensive mistakes. By all accounts, China's performance at the Asia Cup was underwhelming.

Throughout the tournament, Gao primarily employed a 4-2-3-1 formation. China's off-sides count reached 7, second-worst total among teams competing in Qatar (Uzbekistan committed 11 off-sides infractions) While some have pointed to poorly designed schemes, others have blamed the players' lack of field-awareness when playing forward in attack for China's failures. Furthermore, all of China's goals were scored from corner and free kicks, indicating the team's weakness at attacking the opponent in the open field. But it was China's lack of experience in international competition which ultimately led to the team being eliminated in the group stage.

In addition, Chinese players averaged a running distance of only 8,000 meters per game, illustrating a large gap in performance between the Chinese team and that of Japan and Korea Republic. While China's total team running distance was a respectable 106 km in the game against Kuwait, its running distance dropped to 97 kilometers in the game against Qatar. Moreover, China's possession percentage was only 35% in the game against Uzbekistan which ended in a 2-2 draw. At times during the game against Uzbekistan, China looked utterly clueless in possession of the ball.

Since the Chinese football league has been affected by various problems, there has been a recent emphasis on transferring players to play in overseas leagues. Previously, the CFA and local clubs in China had a negative attitude towards players transferring abroad. Yet, China's 2000 Asian Cup squad still had four players toiling on European football clubs. This team, in contrast, had only one member playing overseas (Hao Junmin, Schalke). Japan, which had zero players on foreign clubs in 2000, currently boasts ten men playing overseas. This trend suggests that the current crop of Chinese football players are lacking the opportunities to performance and improve within Europe's club systems, proving that the Chinese team is at a competitive disadvantage when compared to their Japanese and Korean counterparts.

Since becoming the head coach in May of 2009, Gao Hong Bo has an overall record of 18 wins, 10 draws and 6 losses in 34 matches. While Gao's winning percentage is respectable, most of those victories were came during friendly matches when China was not under pressure to win important matches. However, when China has competed in international tournaments and qualifications, a myriad of issues concerning the coaching and players' efforts have come to the forefront. While the Chinese Football Association has stated that Gao will continue as head coach of the team, there are people who are calling for the CFA to hire a high-level foreign coach to change the team's fortunes. Now, the most important mission is to re-establish the credibility of China's professional leagues and to encourage qualified players to compete abroad, in an effort to improve China's chances at the international level.
Text:Text:Wu Tong