Comparable, the East Asian Leagues which is going to be very intensive through the way to compete for Championship
In the 2011 football season, the relative strength of East Asian squads from China, Japan and Korea Rep. have proven to be quite similar. Yet, there are several players and teams who have stood out among the rest and are worth to pay attention to going forward. It's worth noting that East Asian clubs have captured the last four AFC Asian Champions League titles, as Japan's Urawa Red Diamonds, Gamba Osaka and Korea Rep.'s POHANG STEELERS, SEONGNAM ILHWA CHUNMA have won in consecutive years dating to 2007. As the clubs fight it out on the pitch for the 2011 AFC Champions crown, let's take a closer look at the top leagues and teams in Asia.
Favorite Guangzhou Hengda will challenge reigning champion Shandong Luneng for the 2011 Chinal Super League (CSL) crown
SHANDONG LUNENG
The China Super League (CSL) is slated to kick off in April. Reigning champion Shandong Luneng, led by manager Branko Ivankovic, won the Champion of CSL in his second year at the helm with a record of 18 win, 9 draws and 3 losses. However, Shandong will be without former national team striker and CSL's leading scorer Li Jinyu this season as he decided to retire. But Shandong will still have returning firepower in the name of China national-team member Han Peng, who ranked 2nd on the team last season with 17 goals and the Lebanon striker Roda Antar, who contributed eight goals to their outstanding 2010 campaign. On the defensive side, Shandong bought the contract of back Wang Qiang, in the hopes of bolstering their chances to return to the winners circle this season.

Tianjin Teda made big offseason news when they signed veteran midfielder Li Weifeng, who has competed in over 100 matches for the China national team, away from Korea Rep.'s Suwon Samsung Blue Wings FC. In their first AFC Asian Champions League match, Arie Haan's team, led by a strong defensive effort from Li Weifeng defeated Korean (K-League) powerhouse Jeju United 1-0

Shanghai Shenhua still boasts the services of Columbian striker Duvier Riascos, the squad's top scorer and MVP from a year ago. Shanghai topped the CSL leaderboard until the middle of the last season, but they're performance tailed off late as they ran out of steam. Whether they can sustain peak performance is a key question coming into the new season. Shenhua hopes the addition of Syrian defender Adulkader Dakka will contribute their quest for their first ever CSL championship.

In other ACL action, Hangzhou Greentown defeated the J-league champion Nagoya Grampus in their first ACL match China's striker BARI Mamatil was the center of attention. In 2010, Hangzhou added celebrated players such as Chinese national team captain Du Wei and RONG Hao which helped them improve to 4th in the standings, up from 15th in 2009. Hangzhou Greentown hopes to take another step forward in 2011 and compete for the club's first CSL championship.

In addition, look for 2009 champion, Beijing Guoan and Shenzhen Ruby, led by the former coach of Japan Philippe TROUSSIER, to play a role in the championship chase. Also, Guangzhou Evergrande strengthened its roster when it purchased the contracts of Zheng Zhi, the top goal scorer of the 2010 CFA division A and national team members Gao Ling, Feng Xiao Ting, and Zhang Linpeng. Guangzhou also added the Brazilian duo of Cleo and Muriqui. Cleo, who transferred from Serbian powerhouse FK Partizan and midfielder Muriqui will provide added punch to Guangzhou's center attack. Guangzhou hopes its offseason moves will pave the way for a successful season on the pitch.
Could the competition of championship become the mix of Nagoya Grampus, Kashima Antlers and Gamba Osaka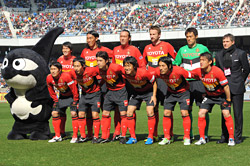 NAGOYA GRAMPUS
Most soccer pundits are characterizing the 2011 J-League as a three horse race pitting 2010 league champ Nagoya Grampus against last season's runner-up Gamba Osaka, with Emperor's Cup champion Kashima Antlers also expected to make some noise. Nagoya Grampus, which won their first J-League championship in 2010, hopes to repeat as champions with the addition of Japanese national team midfielder Fujimoto Jungo as well as Nagai Kensuke, who was the top scorer of Japan at the Asian Games. While midfielder Luis Danilson Cordoba Rodrigues? will be out with an injury, star goal keeper Narazaki and defender Tanaka Marcus Tulio are still on the pitch. In their opening J-League match, Nagoya Grampus and Yokohama Marinos played to a 1-1 draw.

In 2010, defending champs Kashima Antlers failed to complete a three-peat and have made wholesale roster changes in preparation for the 2011 campaign. Kashima moved 10 players from last year's squad, including Brazilian striker Marquinhos. Kashima must overcome the disappointment of last year while quickly assimilating several new faces such as Alex Antonio De Melo Santos and Osako Yuya if they wish to compete for the J-League title.

Gamba Osaka will be led on the pitch by surprising 18 years old midfielder Usami Takashi. Perennially German favorite Bayern Munich has expressed considerable interest in Usami, who has executed perfectly in controlling, attacking and assisting so far this season. In addition, Gamba Osaka boasts a roster highlighted by Japanese national team's Endo Yasuhito, former Korean national team member Lee Keun Ho and the former Inter Milan star Brazilian striker ADRIANO. This lineup will be the envy of the J-League if Gamba Osaka lives up to its high expectations.

Cerezo Osaka comes into the 2011 season with great optimism as it placed third in the 2010 J-League standings, a mere one year after moving up from the J2 league. They have a stable defense backfield and an attack led by Korea Rep.'s Kim Bo Kyung and Inui Takashi. But can Cerezo Osaka show the same attacking prowess that they displayed for much of last season?

They will have to compete with the likes of Kawasaki Frontale and its formidable attack led by Nakamura Kengo. Also, the Yokohama Marinos and captain Nakamura Shunsuke are ready to compete with the top of the division, while former J2 champion Kashiwa Reysol looks to perform well in their first year after promotion to the J-League. Sanfrencce Hiroshima's striker Lee Tadanari, who scored a great goal in the Asian Cup and Jubilo Iwata's striker Maeda Ryoichi, who is looking for his third consecutive scoring title, can also not be ignored.
Other news on the transfer market saw former Japanese national team striker Takahara Naohiro joining Shimizu S-Pulse and Brazilian midfielder Marcio Richardes moving to former Asian champion Urawa Red Diamonds.
SUWON SAMSUNG BLUEWINGS which beat the last season' champion has become a top conteder in the K-League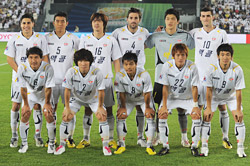 SEONGNAM ILHWA CHUNMA
The Korean K-League, which started March 5th, will feature 16 teams this season with the addition of GWANGJU. On the opening weekend of play, a record 193,959 fans attended K-League matches. The opener featured 2010 Korea Rep. FA Cup winners SUWON SAMSUNG BLUEWINGS versus the 2010 K-League champs FC Seoul. The BLUEWINGS, behind Korean national team's goal keeper JUNG Sung Ryong, and fellow nation team members LEE Yong Rae, CHOI Sung Kuk defeated FC Seoul by a count of 2-0. SUWON, which added some excellent players in the offseason, wants to bring back the K-League title after a three year hiatus.

FC Seoul has high hopes for the 2011 campaign with 2008 Asian Cup MVP and Uzbekistan midfielder Server DJEPAROV leading the charge. Djeparov and FC Seoul teammate DEJAN Damjanovic are considered the two best players in the League. FC Seoul bolstered its attack by acquiring 2010 FIFA World Club League top goal scorer Cristian Molinaro from Columbia. The FC Seoul defense will be led by Korean national team goal keeper KIM Yong Dae and former national team member KIM Dong Jin.

Jeju United, finished second in the 2010 K-Leauge, an improvement of 12 spots from the year before, looks to contend for the title despite the transfer of its star KOO Ja Cheol to Wolfsburg of the German Bundesliga. However, Jeju United returns its top defender Hong Jeong Ho and its 2010 MVP KIM Eun Jung, who scored 17 goal last season.

JEONBUK HYUNDAI MOTORS, which finished in third place in 2010, is seeking to win the K-League for the second time in three years. Their core players from last year's squad return as 2009 league MVP Lee Dong-Gook, Croatian striker Rove Rick and midfielder Elniel should keep JEONBUK HYUNDAI MOTORS competitive in nearly every K-League match they face in 2011.

The reigning ACL Champion SEONGNAM ILHWA CHUNMA is facing difficult circumstances with the recent transfers of goalkeeper JUNG Sung Ryong and midfielder Molina. This roster attrition put the hones on Australian defender and ACL MVP Sasa OGNENOVSKI as well as striker RADONCIC to reach top form early in the season.

2009 ACL champions POHANG STEELERS, ULSAN HYUNDAI HORANG will all look to compete with the top five contenders for recognition in 2011. On another note, Former Korean national team member LEE Woon Jae of Suwon Samsung, for which he had played for 13 years, has transferred to the CHUNNAM DRAGONS. Can the INCHEON UNITED FC's striker YOO Byung-Soo keep win his 2nd consecutive top scorer title? Let's see.
Text:gekisaka.jp/Kondansha
Photo:Getty Images,AFLO