China finished as runners-up
Jubilation, reconstruction and evolution - The good performance shown by China in the EAFF East Asian Cup 2013 could be described with these words.

In their first game of the tournament, China fell two goals behind against Japan but then equalised to earn a 3-3 draw. China gave their all again in the next match against host nation Korea Republic, which ended scoreless. The final game saw them showing their impressive attacking edge to take a 4-1 lead over Australia (They finally won 4-3). As Japan beat Korea Republic after China's triumph over Australia, China finished the tournament as runners-up.

China certainly showed their quality in the EAFF East Asian Cup and their performance received high praise from home and abroad. To ensure the long-term development of Chinese football, however, they shouldn't be satisfied with the status quo and have to contemplate what they should do next.

The Chinese Football Association's attempt to succeed by letting in a world renowned tactician as their national team's coach struggled to bear fruit. Eventually, China suffered a shock 5-1 defeat against a young Thai side and found themselves in a real crisis. However, they succeeded in turning the crisis into an opportunity, possibly helped by their post-defeat review on their progress.


Key to Chinese football's revival
China will play in the remaining qualifiers of the Asian Cup under caretaker Fu Bo, who was given a contract extension until November. The interim coach has not made a radical change to men's football in China. Rather, he has raised the morale and unity of the team, which is considered as a major factor of China's revival, and the performance on the pitch has significantly changed. This fact makes us wonder if the key to Chinese football's revival might be domestic talents.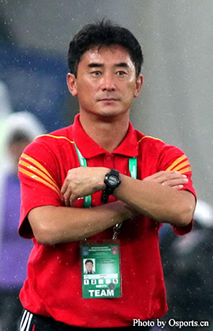 Guangzhou Evergrande, known for their effective use of domestic talents, gain much attention with their results at home and abroad as well as their brand. The club management has secured the services of top Chinese players while ushering in good foreign players as a special force. Their quality grew rapidly with world renowned coach Marcello Lippi leading the team. That investment has arguably re-energized Chinese Football.

Furthermore, there's no doubt that having a Chinese coach considerably helps players raise the quality of communication among them. Eight players are selected as China internationals from just Guangzhou Evergrande (Sun Xiang, Zhang Linpeng, Feng Xiaoting, Qin Sheng, Zheng Zhi, Gao Lin, Tan Jiajun and Rong Hao) and most of them play as regular members of the China international team. Here, there may be some similarities with Spain. Often pointed out as one of the factors behind Spain's recent success is the fact that almost all of their key players belong to Barcelona. The logic here is that players can communicate smoothly with one another on the pitch as many of them also play together for the same club team.


Importance of enhancing youth development
Concerns about overdependence on foreign players and lack of competitiveness are growing with reason. Chinese football is unlikely to benefit from such a system in the long term. While a competitive domestic league is essential, attention must be paid to investment in youth development, as well as big spending (on foreign players) for a prompt league title and success on the international stage. Having said that, it is obvious that the presence of Guangzhou Evergrande as a dominating force in the domestic league provides objectives and incentives for the other clubs of the league.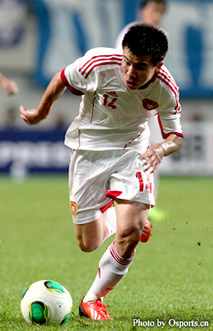 It might be premature to say that Chinese football has made a big change in a short time or a strong revival from the bottom based only on their performance in the EAFF East Asian Cup 2013. Still, China's success in the tournament has arguably proved that their football cannot strike out until they rise to the challenge on their own. Going forward, initiating efforts to improve the grassroots of Chinese football including the youth team will be of great importance.