Japan, Korea Republic, China, and Australia (involved as guests) fill the four berths
The contenders of the EAFF East Asian Cup 2013, in which they will compete to be top of the East Asian Football Federation, have finally been confirmed.

The men's Preliminary Competition Round 2 was held from 1 to 9 December in Hong Kong. Five teams ? Australia, DPR Korea, Hong Kong, Chinese Taipei, and the Round 1 winners Guam ? vied for a berth in the Final Competition, where Japan, Korea Republic, and China await.

The five teams competed in a round-robin league to finish top for the berth. With a very hard schedule where each team had to play four games in nine days, this round was literally a battle for survival and strength in depth was required. In this regard, a two-horse race between DPR Korea and Australia was expected.

DPR Korea beat Chinese Taipei 6-1, then Guam 5-0 to make a bright start. Meanwhile, Australia appeared from the second match day and enjoyed a winning start having managed to defeat Hong Kong.

The two clashed on the third match day. The game came to life just four minutes after kick-off. Archie Thompson scored to give an early lead to Australia.

With the score still 0-1, DPR Korea equalized in the 64th minute. From a corner by Ryang Yong-Gi (Vegalta Sendai), An Yong-Hak (Kashiwa Reysol) scored an equalizing goal. The combination of the two players, both of whom joined the team after the J1 League campaign finished, put DPR Korea level. An scored in an international"A"match for the first time since September 2004.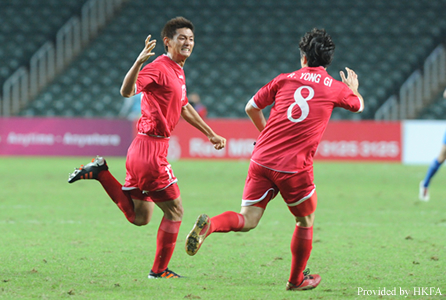 The two sides could not produce another goal and the game ended with a 1-1 draw. Though DPR Korea kept the top spot with two wins and a draw, Australia cruised to a 9-0 victory against Guam in their third match. With both level on seven points, Australia and DPR Korea went into the final match on 9 December.

DPR Korea started the final match against Hong Kong at 14:20 and wrapped up the round with a 4-0 win. Then, in a later game, Australia saw off Chinese Taipei 8-0. The two were still level on ten points, but Australia qualified with a better goal difference.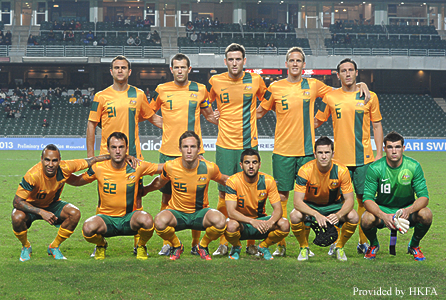 For teams such as Japan and Korea Republic, the EAFF East Asian Cup 2013, to be held from 20 July this year, will be an important test in their attempt to improve their levels as they prepare for the 2014 FIFA World Cup Brazil. There certainly will be fierce battles among friends, or rivals with mutual respect, in East Asia.


DPR Korea, Japan, Korea Republic, and China to feature in the women's tournament
The women's Preliminary Competition Round 2 was held from 20 to 24 November in Shenzhen, China, and China, Australia, Chinese Taipei, and Hong Kong competed for a berth in the final round. China, a driving force of women's football in East Asia since the 1990s, were expected to face a tough challenge from an Australia team boasting much experience in international tournaments.

Indeed, the two teams clashed after two successive wins each. After nine minutes from the start, China opened the score helped by home support, but Australia equalized three minutes later.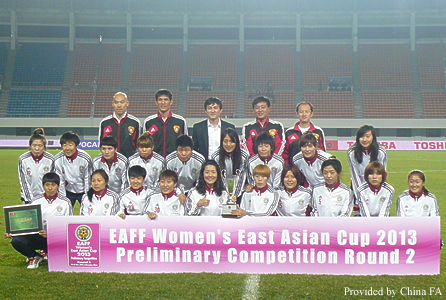 On 51 minutes, the next goal came to China and it proved to be decisive. The home side secured a berth in the final round in four competitions in a row. Hence, DPR Korea, Japan, Korea Republic, and China will feature in the EAFF East Asian Cup 2013 in July.

In the past FIFA international tournaments, these four teams had a strong presence. Parties interested in women's football all over the world will certainly pay close attention to the competition to be held from 20 July in Korea Republic.