Featuring in the East Asian Cup 2013 as guests
The East Asia Football Federation (EAFF) is blown by a new wind from the South.

Australia, who are the driving forces of Asian football along with Japan and Korea Republic, will feature in the Preliminary Competition Round 2 of the East Asian Cup 2013 as guests.

In the Preliminary Competition Round 2, to be held from 1 to 9 December, Australia compete with Chinese Taipei, Guam, Hong Kong and DPR Korea for a berth in the Final Competition, where Japan, Korea Republic and China await.

Meanwhile, for the women's tournament, China, Chinese Taipei, Hong Kong and Australia will compete in China from 20 to 24 November. In both the men's and women's tournaments, the addition of Australia should increase the difficulty of reaching the next round.


Overseas big names are now coming to the "A-League"
Australia's domestic league the "A-League," which provides a foundation for the men's international team, is also prospering.

Before the opening of the 2012/13 season on 5 October, Sidney FC's signing of former Italy international Alessandro Del Piero became the talk of the world. Former England international FW Emile Heskey also started a new challenge with Newcastle United Jets FC. Other top players from overseas countries such as Spain, the Netherlands, Brazil, Argentina and the United States are coming to Australia as well.

A former foreign player from Japan's J League is also there. Patrick Zwaanswijk, who played for then J1 League club Oita Trinita for two seasons from 2004 with the registered name "Patrick," joined Central Coast Mariners FC this season.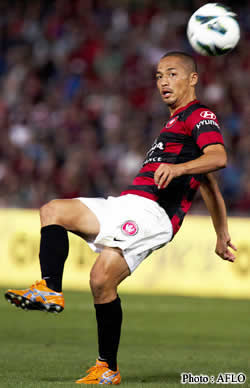 Moreover, a Japanese big name is now playing in the South. Former Japanese international MF Shinji Ono, who had considerable success in Europe, signed with A-league's newcomers Western Sydney Wanderers FC. Having quickly adapted to the new environment with his outgoing personality, he now regularly plays for his new team.

The club is coached by Tony Popovic, who used to play for J1 League club Sanfrecce Hiroshima. Managers and coaching staff with a connection to Japan like him also characterize the A-League.


Seeking expansion for the next season
It is not only foreign players who are giving a boost to the A-League. Australian international players are also playing in the domestic league.

Brett Emerton makes up the spine of Sidney FC with his experience in Europe. Former JEF United Ichihara Chiba player Mark Milligan is now a member of Melbourne Victory FC.

As an ex-player, Japanese football fans might remember his role in the 2006 FIFA World Cup in Germany and the 2007 AFC Asian Cup against Japan, John Aloisi now coaches Melbourne Heart FC.

After four games of the season, Adelaide United FC is on top of the table with three wins and a draw.

Having made the last eight in the AFC Champions League 2012, they are likely to keep driving on this campaign.

Most Australian international players used to play overseas, but now many of them, veteran players with vast experience among others, returned home in the past few years.

A-League is seeking expansion for the next or latter seasons and more big names are expected to come with the possible creation of new teams. Australian football will likely gain more attention going forward.