Hosted between June 30 and July 4, 2016 the EAFF E-1Football Championship Round 1 Guam saw four men's teams from four different corners of East Asia converging to Guam, with every team vying for a spot in Round Two.
Chinese Taipei, Macau, Mongolia and the Northern Mariana Islands national representatives played their matches on the pristine artificial turf of the GFA National Training Center, all showing great improvement from previous tournaments.
The victory went to Chinese Taipei. They will now have the chance to challenge DPR Korea, Hong Kong and Guam in round two, scheduled in Chinese Taipei.
Led by Japanese veteran coach, Toshiaki Imai, Chinese Taipei showed a very dynamic brand of football that privileged the offensive phase in all three games, resulting in 13 goals.
However, Imai was reserved in his enthusiasm about the success, and was already looking at what needs to be improved: "We need to do better with our defensive skills, especially considering how we will meet more challenging opposition in the next round," said the 61-year-old.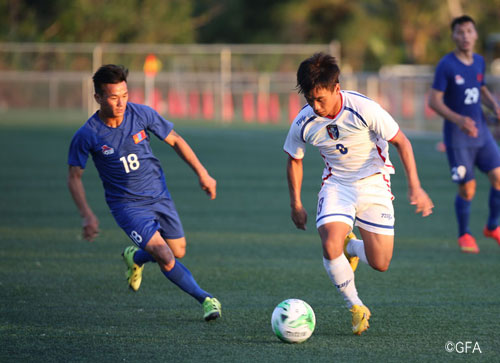 Chinese Taipei also featured the star of the tournament, top scorer and MVP, Chieh-Hsun Lin, who netted seven goals and positioned himself as one of the most intriguing prospects in East Asia. At 23, he showed impressive technical and tactical skills, but was also recognized for his utter dedication to the team and his humble character. These traits are reflected in his manager's nickname for him: "Jimi," which in Japanese translates as "the sober one."
Mongolia, led by the young coach, Battulga Zogrit (29), showed improvement throughout the three matches and showcased yet another impressive player, Bayarjargal Oyunbat (26), who in a period during which the likes of Cristiano Ronaldo and Lionel Messi missed crucial penalties, scored four goals from the spot on as many chances.
Bayarjargal, who spent part of his youth career in Japan, entertained the spectators with three outstanding performances in as many games and is possibly the prototype for future Mongolian football players. He is gifted with both natural talent and confidence, as well as a determination and a physical might that he upheld throughout the whole 90 minutes of each game.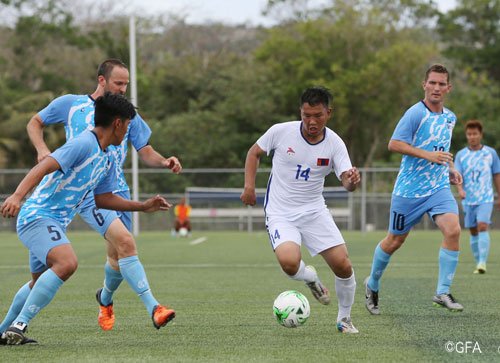 "This is a new team and a young team," commented Battulga, "but I am pleased on how we improved throughout the tournament and hopeful for the future."
Speaking of improvement, Macau was possibly the team that "upgraded" the most. Despite the fact they finished with four points (as many as in the previous edition), with ten minutes left to play in their last match, on the 2-2 score versus Chinese Taipei, Iao San Tam's men were only one goal away from winning the tournament. However, the team eventually submitted to their opponents, with a final score of 3-2.
The bitter words of their coach were balanced by his optimism for the future: "We were very close to a historical result for Macanese football, but the players really give their utmost, and this is very positive for such a young team."
Leong Ka Hang, 23-year-old and playing club football in Hong Kong, embodied his coach's sentiments after he scored what could possibly be considered the best goal of the tournament with an unstoppable left-shot from just inside the box versus Mongolia. Ka Hang is another player to look for in future games.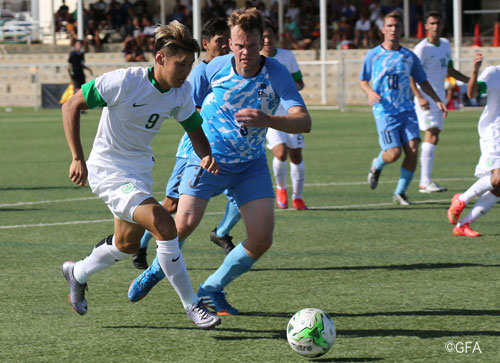 Finally, the Northern Mariana Islands representative could not repeat the glorious performance of the past edition, in which they defeated Macau to clinch a first and historical victory for their nation. They did, however, show several positives.
From the promising 18-year-old striker Michah Griffin to veteran goalkeeper Johann Noetzel (39), the team of the archipelago, led by Japanese manager Kiyoshi Sekiguchi managed to score in two of their three games and will return home with the benefit of having taken part in such an important experience at such a young age.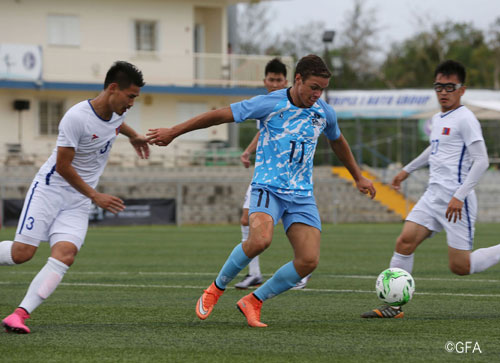 "This time we had in the team players as young as 15, but these international games are very important on our way to build a better national team and a football culture in the Northern Mariana Islands," said Sekiguchi.
A word of praise should go to the EAFF international referees' team. They showed sound judgement, as well as impressive stamina, as most of the games were played under a scorching sun and with a temperature well above 30 degrees.
Last, but not least, the Guam Football Association once again proved to be an impeccable host, earning the consensus of all participating parties. Next stop, Chinese Taipei.