On March 11th, Japan endured a Magnitude 9.0 earthquake, one of the largest recorded earthquakes in its history. The earthquake subsequently set off a tsunami which hit the shores of Japan with tragic consequences. As of April 11, the disaster has resulted in 13,116 deaths and over 14,000 people still missing.

As a result of the disaster, a number of Japanese sports teams were unable to compete, with domestic and international football matches coming to a halt. The J-League extended its season opening day to April 23rd and AFC Champions League games involving Japanese clubs have been postponed indefinitely. Furthermore, the Japanese national team, originally scheduled to compete in friendly matches at the end of March, has suspended play as well. Despite the difficult circumstances, football is slowly recovering in Japan, with the help of the world football family.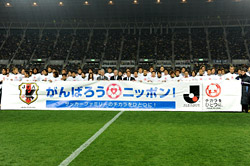 On March 29 during a charity game, fans display a "Go Japan" slogan
The East Asian football federation nations have joined in relief efforts by donating $30,000 in aid to those in needs. Prior to Tianjin Teda playing host to Gamba Osaka in a AFC Champions League match on March 15th, the crowd held a moment of silence for the victims. The next day, Shandong Luneng competed against Cerezo Osaka, as the Chinese fans displayed banners of support for Japan, including the message, "While the earthquake has no heart, people do".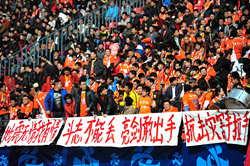 During an AFC Champions League match between Shandong Luneng and Osaka Sakura, Chinese fans display a banner of encouragement for the people affected by the natural disaster.
Support for Japan's relief efforts has been vigorously embraced by European football as well. Prior each UEFA Champions League match in March and April has appeared the slogan "We are with Japan". Encouragement was also present before UEFA EURO 2012 qualifying matches and In Brazil. Former Japanese coach Zico launched a charity game, with all proceeds benefitting the relief efforts. Japan has received support from over 200 countries and territories around the world. The football world has brought great appreciation for the hardships in Japan and in return, the courage of the Japanese people have inspired fans and players alike. On March 29th, the National Team and the J-League held a charity game. Over 40,000 spectators gathered at Osaka Nagai stadium to lend support. A goal from Kazuyoshi Miura, the 44-year old former Japanese striker, let the fans know that Japanese football stood behind its ailing country. As cheered "Let's Go", Japanese football and its fans demonstrated to the rest of the world their unwavering enthusiasm and spirit.
Messages to Japan from the world football family (selected)
Joseph S. Blatter, FIFA President
I am deeply saddened to read the news about the tragic events in Japan. On behalf of FIFA, I would like to extend my deepest concern and regards to the Japanese people. Furthermore, we send our deepest condolences to the victims, injured persons and their relatives.
Michel Platini,UEFA President
While Japan faces the worst natural disaster in its history, the European football community would like to convey our greatest concern for Japan and its people. No matter how difficult the situation, UEFA will always be with you. We would like to express our heartfelt condolences to the victims, and prior to all UEFA competitions this week, we will have a moment of silence to honor the victims and display solidarity between Europe and Japan.
Muhammad Harman, AFC (Asian Football Confederation) President
The catastrophic events in Japan have impacted the entire world. As the Japanese people endure worsening conditions each day, I feel deeply saddened.

As such, the Japanese Football Association and its affiliations around Asia extend our sincere thoughts and encouragement to the Japanese people.
As efforts continue to overcome the impact of the disaster, it is my belief that all the countries of Asia will unite as one to help Japan, and ties between countries will become much closer as a result.
FC Barcelona head coach Josep Guardiola
We all hope that Japan will soon rise up and recover from their great misfortune. I saw on TV the horrors and devastating effects of the disaster. We hope the people in the affected areas will continue to show perseverance through these tough times .This summer on our Asian Tour, I will go with the team to Japan to help in any way possible.
Manchester United player Park Ji-Sung
Japan is currently enduring a disaster beyond our imaginations, resulting in many acts of heroic sacrifice and loss.
My feeling is beyond words and the disaster is shocking and really saddening. I am particularly saddened, as I have played for a Japanese club in the past.
While humans are no match to nature's wrath, we will gain strength by relying upon each other to get through these difficult times.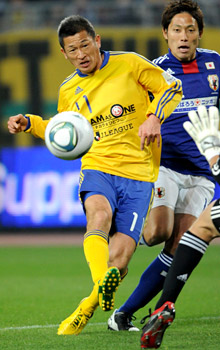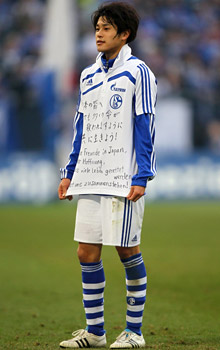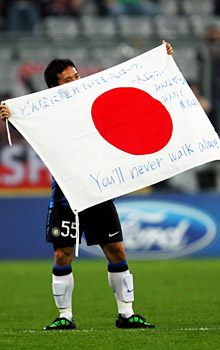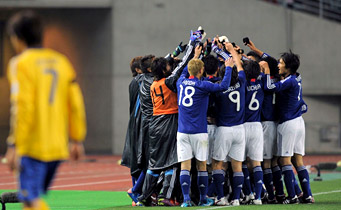 During the charity game, Japanese team members point to the sky after scoring.
Before an AFC Champions League match between Tianjin Teda and Gamba Osaka, the players observe a moment of silence.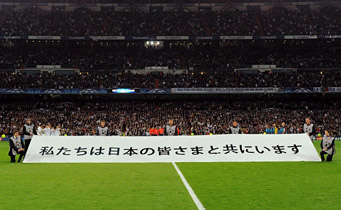 UEFA Champions League also supports Japan's recovery efforts by stating, "We are with the Japanese people" This is a Photo of Spain's Real Madrid game versus France's Lyon.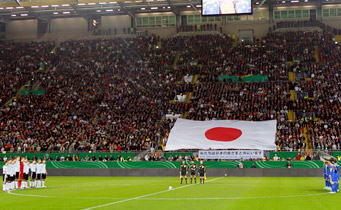 There are memorials on the friendly matches between European countries. Pictured is the German national team and the Kazakhstan national team.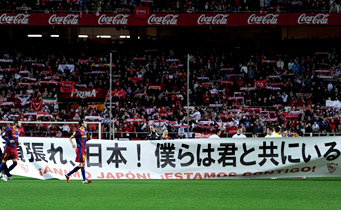 Representatives of FC Barcelona propose, "Keep strong Japan! We are with you."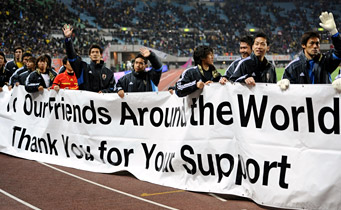 The Japanese National Team and J-League representatives after their charity match. Two players hold a banner conveying their thanks for all the support Japan has received from the rest of the world".
Text:gekisaka.jp/Kodansha
Photo:Getty Images,Koki NAGAHAMA,Kaoru WATANABE