In the 30th Olympic Games London 2012, which will start late July, Korea and Japan will compete as representatives of the East Asian Football Federation. This is the 9th appearance for both and the 7th and 5th consecutive "encounter with the world" for Korea and Japan, respectively.
Korea U-23 national team led by an Asian football legend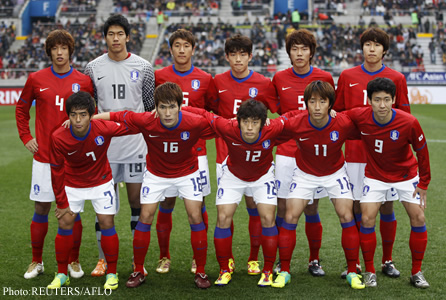 The Korea U-23 side led by Hong Myung-Bo, an Asian football legend, is full of stars playing at home or abroad. While six players belong to K League clubs, five others play for Japan's J League. Among those five players is Han Kook-Young, who plays at Shonan Bellmare in the J League Division 2. As a holding midfielder with a superb ball-winning ability, he continues to show impressive performances in the league this season.

Kim Young-Gwon, who was at Omiya Ardija when the Korea squad was confirmed, moved to China's Guangzhou Evergrande FC on 2nd July. Good at providing left-footed long balls, this centre back has already secured a place in the Korean starting XI.

Another five players have been called into the Korean squad from European clubs. Park Chu-Young, boasting much senior international experience, was selected as an over-age striker. While Ki Sung-Yueng (Celtic) is also a senior international, in the squad as an U-23 player.

Koo Ja-Cheol (Augsburg), a leading scorer in the AFC Asian Cup 2011, was also born in 1989 and is 23 years old. Coach Hong Myung-Bo has appointed him as team captain. The other Europe-based player is Nam Tae-Hee, now playing for Lekhwiya in the Qatar Stars League. He moved to England in his teens through the Korea Football Association's development programme. Then, he joined Valenciennes and played for the French Ligue 1 club from May 2009 to December 2011, so he may as well be counted as a Europe-based player.

The Korean squad was named on 2nd July and training sessions at home started on the same day. On the 14th, they will play a preparation match in Seoul against New Zealand, a fellow Olympic entrant from the Oceania region.
Japan U-23 national team includes two experienced over-age players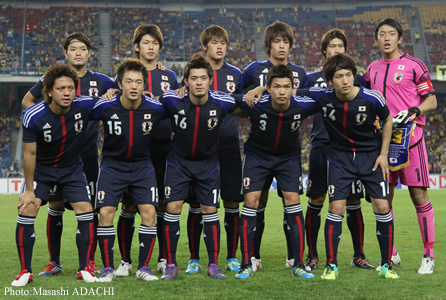 On the same day the Korea U-23 team started preparation, Japan U-23 coach Takashi Sekizuka announced his squad. Based on the players involved in the Asian final qualifying round, the coach has included two over-age players as back line options - Yuhei Tokunaga and Maya Yoshida.

Tokunaga, who represented Japan at the Athens Olympics in 2004, is a defence specialist and can play at centre back, right back, left back and in the holding role in midfield. The number of players a team can register for the Olympics is only 18, five less than that for the FIFA World Cup, so versatile players like him are essential to any team.

Yoshida played in the previous Olympic Games held in Beijing. He also plays for the senior international team coached by Alberto Zaccheroni and gives strength to their back line as a regular centre back. "He is close in age to U-23 players and I expect him to become a defence leader," said Sekizuka with high expectations. This competition will provide an individual opportunity for a defender who is seeking a career-boosting transfer from VVV-Venlo (Netherlands) to show his quality.
Aimed for London to settle the loss in the AFC U-19 Championship
Attention from supporters and media inevitably tends to be focused on Europe-based players. Meanwhile, two home-based players, goalkeeper Shuichi Gonda and forward Kensuke Nagai are more determined to succeed in this competition than anyone else.

On 8th November of 2008, they were in Saudi Arabia. Japan were competing in the "AFC U-19 Championship Saudi Arabia 2008" to obtain one of the four berths for the FIFA U-20 World Cup held in Egypt the following year.

In the quarter-finals of that competition, Japan played against Korea. Japan were one goal down after 21 minutes, but their determined defence meant Korea couldn't extend their lead until late. However, Korea added goals on the 84th and the 92nd minute and Japan lost 0-3. This ended Japan's run of seven successive appearances in U-20 World Cup.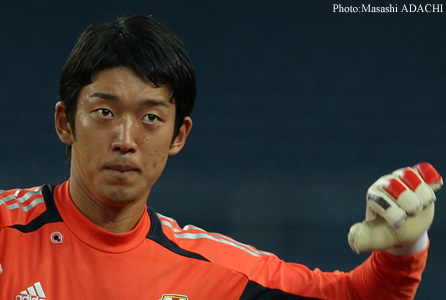 Gonda and Nagai could never forget this disappointment and made it their motivation as they aimed for the London ticket.
Rivals grown together by competing with each other
At any time, in any category, Japan and Korea have been fiercely competing with each other. They have fed on both the joy of victory and disappointment of loss equally.

Both countries are trying to raise their levels through this rivalry.

Japan won a bronze in 1968 and this is the only medal an Asian team has ever won in the Olympic men's football tournament. Japan and Korea will play on the pitch of the London Olympic Games to develop a new frontier for Asia from the east.