The youngest midfielder in the team
In early June just four years ago, the Japan international team was involved in the third qualifying round of the 2010 FIFA World Cup. The team played back-to-back games against Oman in Yokohama on 2 June and in Muscat on 7 June. Then, Japan flew to Bangkok for an away game against Thailand on 14 June.

After forward Yoshito Okubo was dismissed in the 7 June game, then coach Takeshi Okada was thinking over the options for the front line. The question was which formation to use in the game against Thailand on 14 June, 4-4-2 as usual or 4-2-3-1 for a change. The coach chose the latter and gave the youngest midfielder of the team his first international start. That player was Shinji Kagawa.

He had made his senior international debut on 24 May of that year in a friendly against Ivory Coast. He also played in the match against Oman on 2 June as a second-half substitute. He was gradually becoming less awkward on and off the pitch.

"Now, I'm fairly adapted to the team. First, I was nervous, but now I can talk with teammates."

Players senior to him patted, tapped, and slapped him on the head, back and butt as they walked by Kagawa who was giving an interview with a smile after training ? A "teasing," which shows how well he has blended into the team.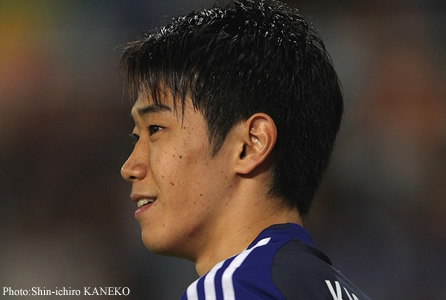 An alarmed number 8
"Basically, I play behind strikers, but I'd like to do it flexibly without adhering to that position. (Daisuke) Matsui and Shun (Shunsuke Nakamura) allow me to play freely. I appreciate that that they play in a way that compliments my style. So, doing what I always do at Cerezo (Osaka, his then club), that's what I'd like to concentrate on," he said.

With number eight on his back, Kagawa played for 82 minutes. Though Japan won 3-0 to get through the third qualifying round, he had a stern look after the game. "I was able to create goal-scoring chances or shoot myself only a few times. I need to get involved in the game more actively or…"

After "or," he might have wanted to say "I won't be called up again" or "I cannot settle as a regular." Anyway, he was very alarmed.
Given the number 10, a potent symbol of attack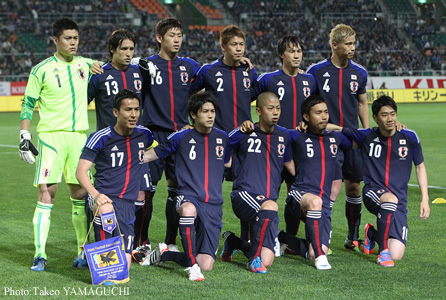 Four years have passed since then.

In the Japan international team led by a manager called "Zac," Alberto Zaccheroni, Kagawa has been given the number 10 shirt ? arguably the symbol of attacking, worn by Kazushi Kimura and Ruy Ramos in the past and then Hiroshi Nanami and Shunsuke Nakamura more recently.

Zac's basic formation is 4-2-3-1 with Kagawa placed on the "left side of the three-man line." Initially, he sometimes appeared awkward, because that position was different from where he played at his club.

However, in the AFC Asia Cup in January 2011, Kagawa combined well with players around him and scored twice in the quarter-final match against Qatar. He missed the final against Australia through injury, but he contributed to Japan's regaining of the Asian title. Then, in August 2011, the midfielder scored two goals against Japan's East Asia rival Korea, leading the home team to a victory.
The road to Brazil
In the 2014 FIFA World Cup third qualifying round, which started in September 2011, Kagawa again played a pivotal role in Japan's attack. The importance of the number ten who has enjoyed a successful spell at (German champion) Borussia Dortmund will remain unchanged in the coming final qualifying round. His comments reflect his self-awareness as a central pillar of the team.

"The three successive matches in June will be a good opportunity for us to develop a team over time because, not only having matches, we can work together for a long time. In the final qualifying round, I think the atmosphere will be different from that of the third round, so we are going to have more training sessions and I myself will try to be mentally more prepared."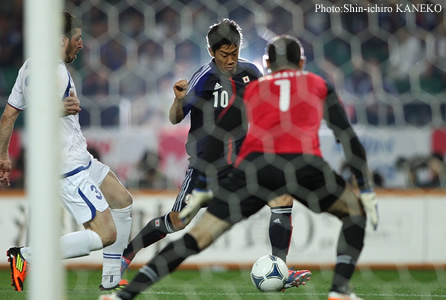 Having become one of the leading footballers in Asia, Kagawa at just 23, sees unlimited possibilities before him. His eyes are now clearly focused on the road to Brazil.