2016 was a banner year for the Hong Kong Football Association (HKFA), with development boosted by great results against rivals China in the second round of 2018 FIFA World Cup/AFC Asian Cup 2019 Joint Qualifying as well as promising showings in the EAFF E-1 Football Championship 2017 Round 2 HONG KONG Men's and Women's Tournaments.
HKFA CEO, SUTCLIFFE Mark, believes the future is bright for the country's popular national team as the level of domestic players continues to improve.
"More than the political aspect, I believe that our results have generated great interest in the national team. The home game against China was a full house, and we could have sold it out five times over," he says.
"As a result of the good results against China, we have a few Hong Kong players in the Chinese Super League. It's good for them as they get paid more, and it's also good for us as our players get used to playing at a higher level."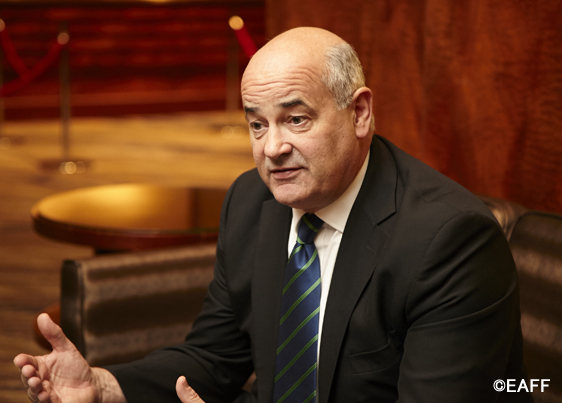 In addition to locally-born talent, the men's team boasts a number of naturalized stars, all of whom have lived in Hong Kong for at least seven years before applying for their passport and relinquishing their original nationality.
"It's a big decision for the players. The fans know they've been through this long process, so there's a lot of support for them," SUTCLIFFE explains. "We want to develop local talent but also get a blend, with foreign players bringing in different style of football.
"Our manager KIM Pan Gon is a Korean, but he has been in Hong Kong for a long time as a player, a club manager, and for the last four years as a national team manager. The people love him."
In the fifth year of a government-backed plan to revitalize the country's football program, work has begun on a new training center which will feature six pitches. An academy for boy and girl players has been established thanks to charitable contributions from the Jockey Club, and SUTCLIFFE sees the promotion of women's football as the HKFA's next challenge.
"We see both men and women's football as equally important, but there are many more men than women playing football here and balancing out the participation will be a big task," he admits.
"Off the pitch we have female coaches, referees, and board members; Eastern won the domestic league with a female manager. The HKFA has only taken on the responsibility of women's football in the last five years, and I believe now we are doing a very good job in identifying girls and women who want to play for Hong Kong.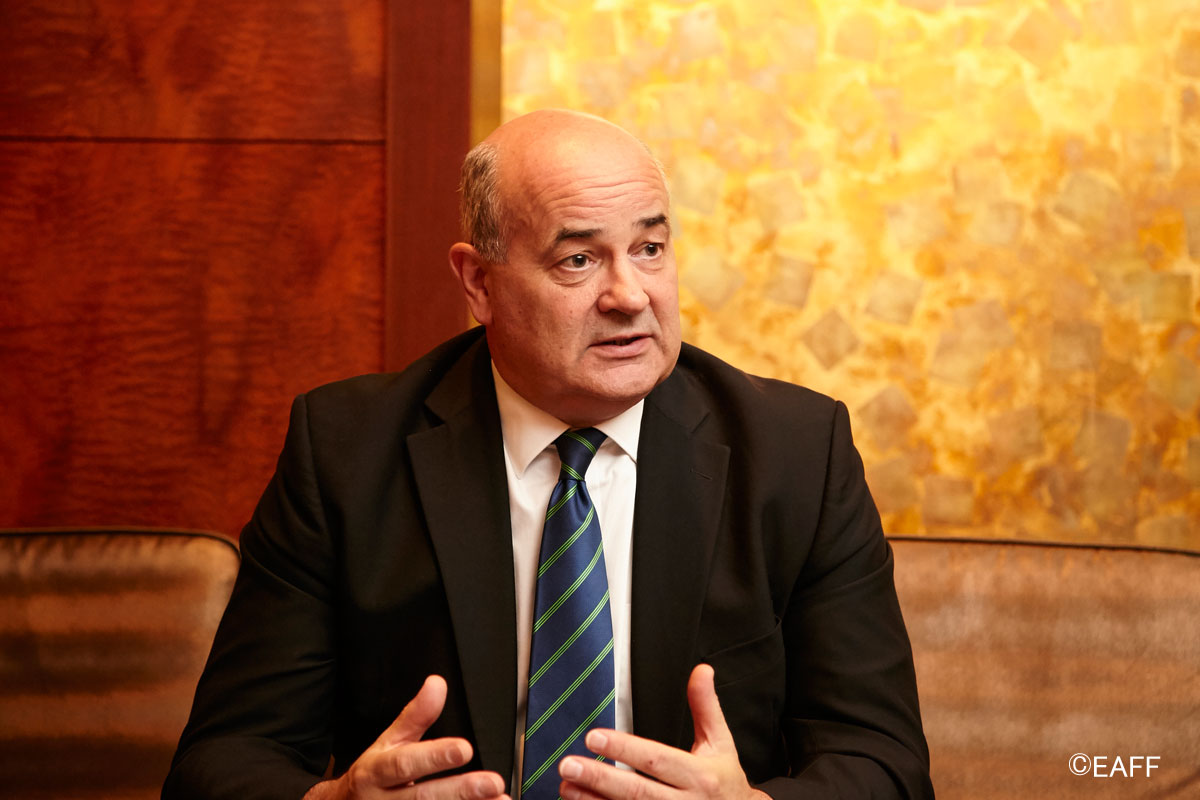 "We have a long way to go, but the women's national team's spirit is fantastic. The girls have a great attitude, they are fearless on the pitch, and deserve the support they get from the fans."
Following November's successful E-1 Football Championship 2017 Round 2, SUTCLIFFE remains enthusiastic about the future of football on the territory.
"I really want to thank the EAFF for the opportunity to host the qualifying round and showcase our organization and the growing interest for football in Hong Kong," he says.
"Overall I am happy with our achievements so far; I love my job. Of course it comes with its challenges, but I love football and I love to watch our teams improving."