I sincerely hope this year brings hope to all the East Asian Football family members.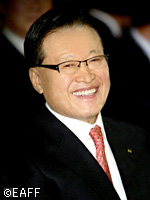 Last year we have successfully held the EAFF U-15 Youth Tournament 2011 in Chinese Taipei from 20 to 24 July and have achieved the goal of promoting technical development of youth football throughout the East Asia region.

As a new competition cycle will be started from 2012, I would like to launch "new initiatives" for the EAFF as well as our Member Associations.

First of all, we changed all the competitions' name to "EAFF East Asian Cup" which would provide football fans and sponsors with consistent image. I am confident that the new competition name will bring more attention and marketing values for the EAFF.

Secondly, a new format of competition based on the football level of each Member Associations, the Preliminary Competitions Round 1 for Women's national team will be introduced, and it is believed to make the Women's competition more competitive.

Also, we are planning to initiate new refereeing development projects for Member Associations. As everyone is aware that football is a global sport and its rules must be interpreted and applied with absolute consistency, refereeing is one of the most important axes of football. Thus, we will organize courses and seminars for referees and assistant referees in order to raise their standard and help more EAFF referees to be listed in the FIFA international referees list and AFC elite referees list.

Furthermore, I would like to stress that EAFF Member Associations should be more united than ever since AFC seems to enter a new phase in international relations in 2012 and, consequently, East Asia should take an important role and lead Asian Football in the upcoming era. Hence, I strongly will foster EAFF's bonds together with all the EAFF family to make our unity and solidarity stronger.

Finally, from here in Seoul, I would like to wish you all happiness, peace and health in the New Year!

Chung Yun Cho
President