It is pleased for EAFF secretariat to announce that the East Asian Football Federation held 35th Executive Committee Meeting with the following schedule.

Time and date: 11th April (wed), 10:00-11:20
Venue: Four Seasons Hotel Shanghai (Shanghai, China PR)

| | |
| --- | --- |
| President | : Mr. Chung Yun CHO (Korea Republic) |
| Vice President | : Mr. Martin HONG (Hong Kong-China) |
| | : Mr. LIN Xiaohua (China PR) |
| | : Mr. Kohzo TASHIMA (Japan) |
| Members | : Mr. LU Kun Shan (Chinese Taipei) |
| | : Mr. Richard LAI (Guam) |
| | : Mr. Jang Su Myong (DPR Korea) |
| | : Mr. CHIO Kam Vai (Macau-China) |
| | : Mr. Jerry TAN (Northern Mariana Islands) – absent with apology |
| General Secretary | : Mr. Joo Sung KIM (Korea Republic) |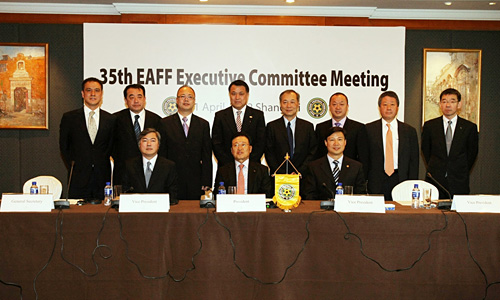 The result of 35th EXCO meeting as follow;

(1) Activity Reports in 2011
・EAFF U-15 Youth Tournament 2011 (July, Chinese Taipei)
・The proposal of the 7th EAFF Competition Committee Meeting held in November in Seoul was approved.
The EAFF competition titles were changed and new name is EAFF East Asian Cup and EAFF Women's East Asian Cup.
The new name will be used for all the EAFF competitions, also the round 1 and 2
will be used for the preliminary and semi-final competitions.

(2) Financial Report 2011

(3) The new members of standing committee of this period were approved.

(4) EAFF Preliminary Competition Round 1 & 2 (Men & Women)

・EAFF East Asian Cup 2013 Preliminary Competition Round 1 (M&W)
Host Association and Venue: Guam
Date: 17th – 22nd, July

| | |
| --- | --- |
| Participation Team: | (M) Guam, Macau, Northern Mariana Islands |
| | (W) Guam, Hong Kong, Northern Mariana Islands |
・EAFF East Asian Cup 2013 Preliminary Competition Round 2 (M)
Host Association and Venue: Hong Kong
Date: 5th - 9th, December
Participation Team: Hong Kong, Chinese Taipei, DPR Korea, 1 from Pre-Comp.
Round 1
・EAFF East Asian Cup 2013 Preliminary Competition Round 2 (W)
Host Association and Venue: China PR
Date: TBD
Participation Team: China PR, Chinese Taipei, 1 from Pre-Comp. Round 1
(5) Football Federation Australia's interest in EAFF East Asian Cup 2013
Football Federation Australia (FFA)'s interest in EAFF East Asian Cup was reported.
The participation of national team's (Men and Women) of FFA into EAFF East Asian Cup 2013 is regarded positively in general in terms of competiveness and promotional aspects by EXCO member who attended this EXCO meeting and this would increase and upgrade its value and authorities of EAFF East Asian Cup from long term point of view.
EAFF EXCO members expressed their welcome to this proposal and at the same time, EXCO members agreed to study and review in advance in depth through relevant standing committee such as competition, marketing and financial committees. The final decision of Australia's participation will be decided by EAFF EXCO members in consultation with relevant standing committees of EAFF
Lastly, through this challenge, a brighter future will come to East Asian Football Federation
(6) The 10th Anniversary of EAFF establishment in 2002
All of EXCO members during the meeting are pleased and proud for mark the 10th anniversary of East Asian Football Federation since established at the year of 2002.
In this regard, EAFF Secretariat will organize 'big celebration event' for the 10th anniversary of EAFF establishment in the upcoming future in order to express appreciation to all member associations and in particular, all EXCO members who has devoted and provided their full of support for concrete unity and solidarity of EAFF.
(7) 'Support' for Mr. Zhang Jilong, AFC Acting President and one of Honorary Vice President of EAFF.
All of member association and EXCO members of EAFF are very proud of Mr. Zhang Jilong, EAFF Honorary V.P and current Acting President of AFC who took over AFC acting presidency from the year of 2011. Mr. Zhang Jilong has lead the AFC secretariat and AFC member association family into harmony and solidarity with his tremendous leadership shown until today. EAFF family always wishes very good luck of AFC Acting President Mr. Zhang Jilong and we all look forward to hearing upmost result followed by his dedication for football development throughout Asia during rest of his presidency of AFC.